[ad_1]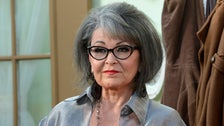 Slightly over half of the American public agrees with ABC's decision to cancel "Roseanne" this week, a HuffPost/YouGov survey finds, with an even bigger majority saying the Roseanne Barr tweet that prompted that step was racist.
The survey noted that Barr's tweet described former Obama adviser Valerie Jarrett, who is black, as a cross between the Muslim Brotherhood and "Planet of the Apes." Fifty-nine percent of respondents agreed the tweet was racist, while 20 percent said it wasn't.
In this week's survey, 51 percent said ABC made the right call in ending the show because of Barr's comments. Just 31 percent that the network made the wrong decision. (Of the minority who think the network erred, more than 60 percent said they considered the cancellation to be not merely wrong, but a violation of Barr's right to free speech.)
Trump voters were more likely to have watched the show regularly ― 30 percent said they'd seen more than one episode, compared to just 14 percent of Hillary Clinton voters. It's possible, of course, that some Clinton voters were disavowing the show post-cancellation, but the April poll also found them modestly less likely to say they were watching.
Trump voters were also more likely to feel a kinship with the program. Among those who had seen at least one episode, 82 percent of Trump voters, but just 23 percent of Clinton voters, said "Roseanne" represented people like them at least somewhat well.
Most viewers of the show, however, didn't see tuning in as a political act. Of those who'd seen at least one episode, just 17 percent said they watched even in part because the show was supportive of Trump. Larger shares gravitated to less charged reasons for picking up a TV program: They'd always liked it, they thought it was funny, they'd heard people talking about it or they'd seen ads. Even Trump-voting viewers were more likely to cite the show's humor than its partisanship.
The HuffPost/YouGov poll consisted of 1,000 completed interviews conducted May 29-30 among U.S. adults using a sample selected from YouGov's opt-in online panel to match the demographics and other characteristics of the adult U.S. population.
HuffPost has teamed up with YouGov to conduct daily opinion polls. You can learn more about this project and take part in YouGov's nationally representative opinion polling. More details on the polls' methodology are available here.
Most surveys report a margin of error that represents some, but not all, potential survey errors. YouGov's reports include a model-based margin of error, which rests on a specific set of statistical assumptions about the selected sample rather than the standard methodology for random probability sampling. If these assumptions are wrong, the model-based margin of error may also be inaccurate. Click here for a more detailed explanation of the model-based margin of error.


[ad_2]

Source link